While there are many steps in the home-buying process, it's best to start by reviewing your finances, especially as a first-time home buyer. In fact, you should do this long before you start looking at homes. While diving into your finances can feel daunting, our partner at Penrith Home Loans is here to help. Cherie Kesti is a Branch Manager and Mortgage Consultant who also happens to be a Kitsap County local. With more than 20 years of experience working in the home financing industry, she was happy to answer these common questions from first-time home buyers.
What are the top things lenders consider when working with a first-time home buyer?
There are a lot of things we look for when qualifying a first-time home buyer, but four key areas are:
Job security: Having a minimum two-year history is ideal.
Other income sources: This includes other sources such as social security, alimony, child support, disability, retirement, and pensions. For these types of income, lenders must confirm that the money will continue being received at least 36 months post-closing.
Credit history and monthly debt load: Having a good credit score is an indicator of your overall financial health. If yours is low, it's important to take steps to

improve your credit score

before applying for a loan. Also, the amount of outstanding debt directly affects how large a loan a buyer qualifies for. If you're able to pay down your debt, that's ideal before qualifying for a loan.
Assets: Some loans require a minimum amount of assets in liquid accounts such as checking, savings, and money market accounts or in brokerage, retirement, and stocks. Borrowed funds are not considered an acceptable source of funds for a home loan unless those funds are secured by an asset such as a vehicle, or property.
Is buying a home still achievable in today's market?
Many young adults think that they may never be able to buy a home. There is so much discouraging information in the media. However, they become more optimistic after learning that there are a variety of lending strategies and programs available to help first-time home buyers. This includes programs that allow a small down payment and gift funds from a family member to be used as a down payment. There is also down payment assistance available and the possibility of negotiating a seller-paid mortgage-rate buydown to lower interest rates. All these options help with affordability and make buying a home more achievable.
Are interest rates too high right now to buy a home?
Don't let interest rates discourage you from purchasing a home. Buying your home at today's value, combined with the potential opportunity to refinance in the future, may be in your best financial interest. As we say in real estate, marry the house, date the rate. If you wait to buy, most likely, the home's value will continue to increase. This requires a larger loan regardless of the interest rate. If you buy now with a lower home value, you will have a smaller loan. With refinancing, this means a smaller monthly payment in the future.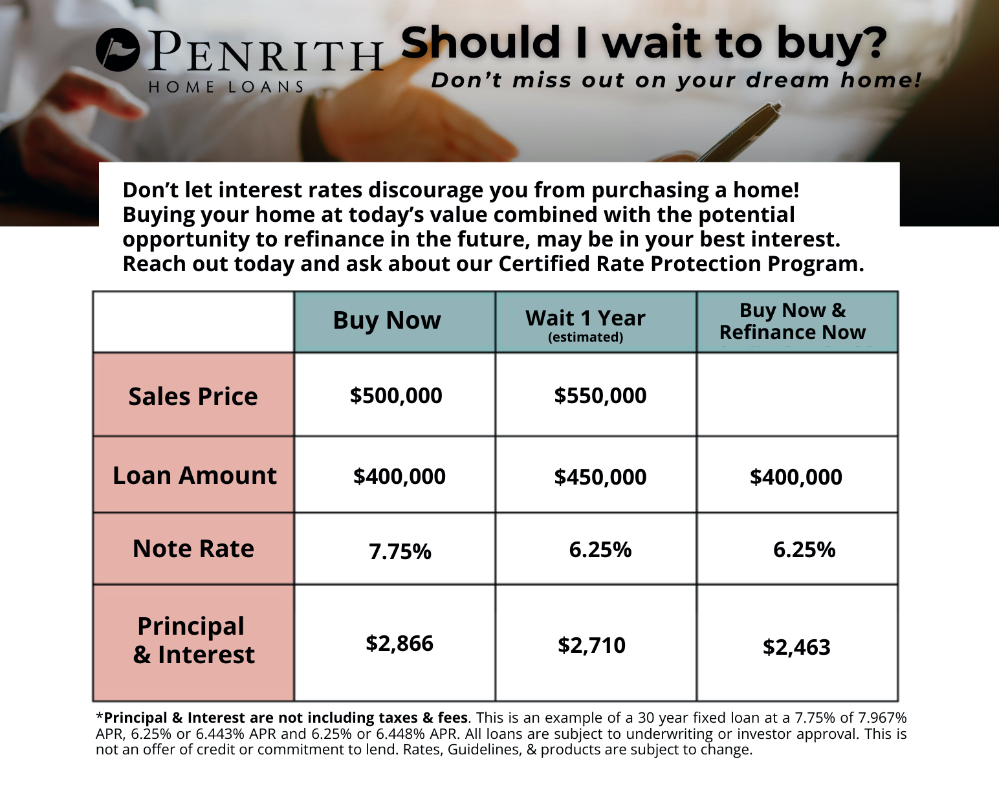 Do I need to have a large down payment to buy a home?
If you're saving up to buy your first home, you may be relieved to know that for most buyers, low down payment options are still available. This includes the following options:
0 down: The Veterans Administration and the U.S. Department of Agriculture both offer a zero-down loan program for individuals and/or properties that meet their criteria. Sometimes, loans require little or no cash out of pocket. Some down payment assistance programs also give buyers a chance to purchase with minimal down payment.
3.5% down: The Federal Housing Administration loan program allows as little as 3.5% down. This program is also more lenient than others on minimum credit score requirements and other factors.
5% down: Fannie Mae/Freddie Mac conventional loans are available with down payments as low as 3%. The minimum on these programs can change depending on factors such as property type, credit score, and occupancy. Conventional financing is now allowing as little as 5% down payment on a multi-family/2-4 family home, which will allow homeowners to occupy one unit and rent out the other units as cash flow, which offsets the expense of their monthly mortgage payment.
If you have additional questions about finances as a first-time home buyer, contact Cherie Kesti or one of our Windermere Kingston Brokers. We also have other great resources to help you, including our home-buying guide and what to examine when touring a home. Best wishes on your home-buying journey!